News provided by BizCare
Lafayette, CA., April 7, 2020 -- BizCare recently released its new Crowd Thermal Monitoring Solution which helps organizations enforce their own safety and health procedures.
Although temperature screening cannot exclusively determine employee or patron wellness, BizCare's Crowd Thermal Monitoring Solution leverages artificial intelligence, non-invasive thermal imaging, together with advanced cyber-security to objectively inform affected personnel with elevated body temperatures - a primary symptom of the COVID-19 virus.
A primary symptom of COVID-19 is an elevated body temperature of above 100.4˚F. Although temperature testing is somewhat controversial as a method for detecting COVID-19, BizCare's Crowd Thermal Monitoring Solution is non-invasive, instantly delivers objective results, and tests for one of the primary symptoms of COVID-19.
CDC, Federal, and State Authorities recently revised their guidance supporting temperature screening in certain circumstances, stating that workplaces in communities with minimal to moderate community spreading should, among other things, "[c]onsider regular health checks (e.g., temperature and respiratory symptom screening) of staff and visitors entering buildings (if feasible)."
BizCare's Crowd Thermal Monitoring Solution accurately informs designated personnel whenever elevated body temperatures walking at normal speeds while wearing masks, hats, and even helmets. The solution accelerates fast and accurate facility screening, with audible and visual alerts whenever elevated body temperatures are found - for further managed or self-managed screening - to help isolate infected individuals from healthy patrons or employees.
Non-invasive scanning continuously informs the organization
Incidents are managed according to screening protocol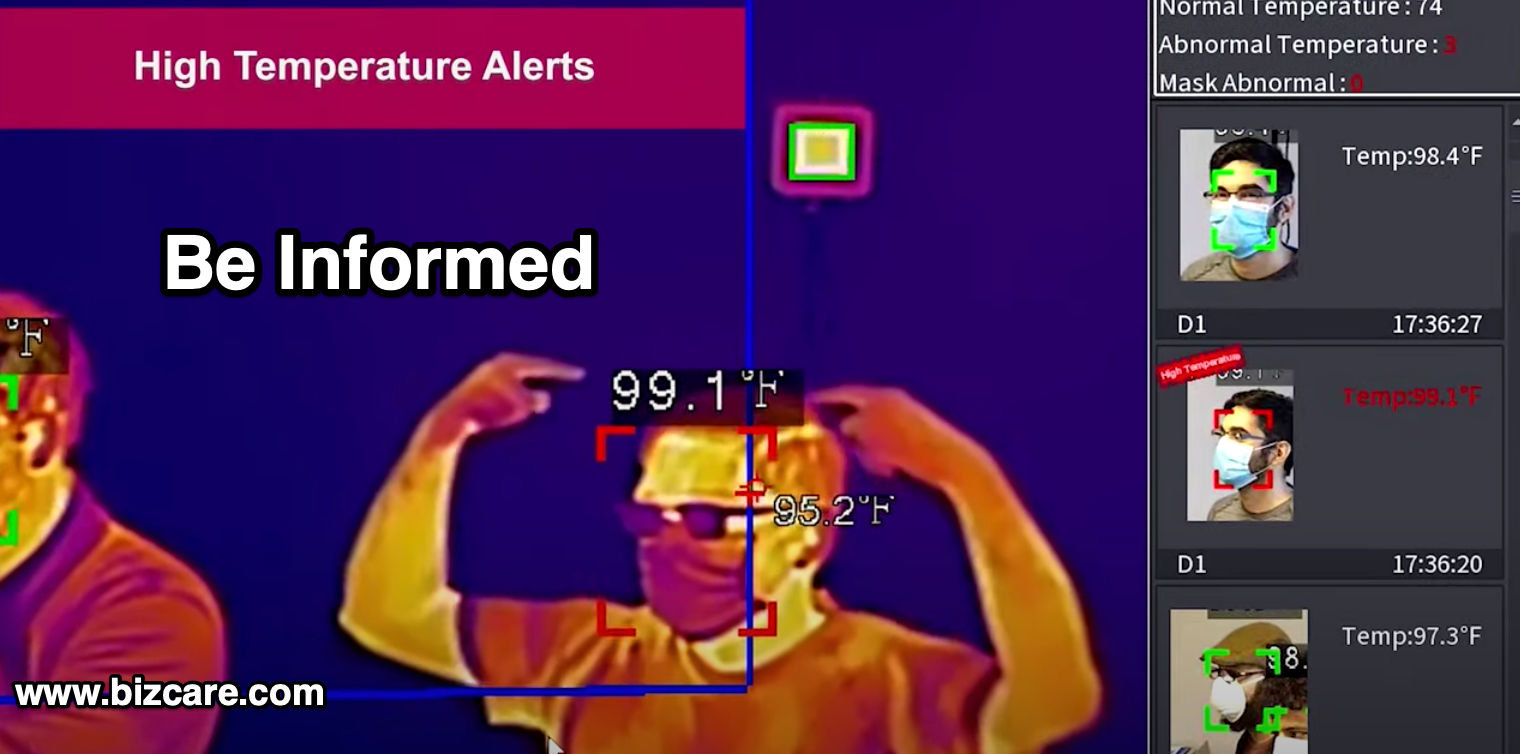 Thresholds and alerts are tailored for state and local changes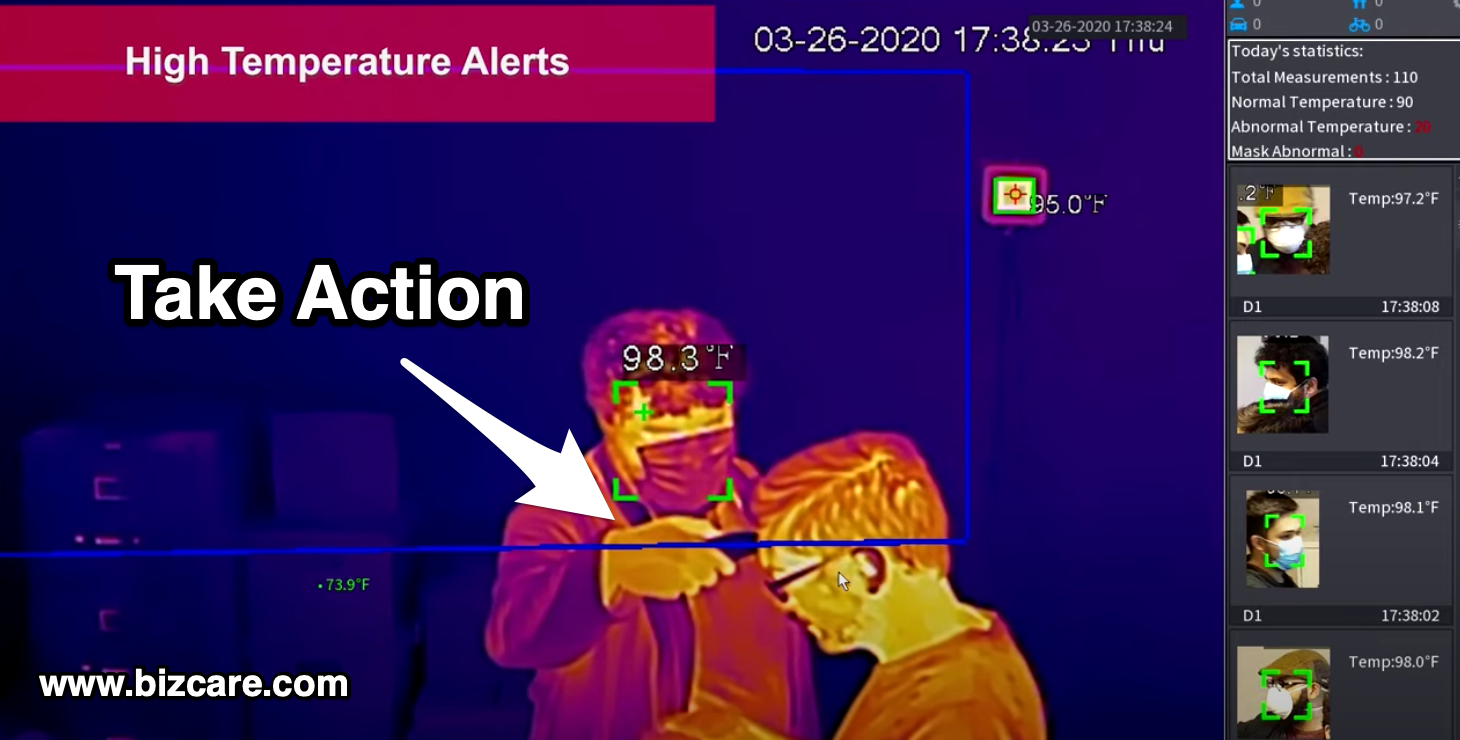 "BizCare's Solution is really changing the way owners and operators keep our supply chains open," said Donald Case, CEO of BizCare, Inc. "Rapid scanning of employees as they return to their workplace, or patrons as they frequent their favorite movie theater or grocery store, helps the country resume its normal pace. At the same time, we have heard from many of our clients that their customers and employees feel safer with the objective accurate information. Now, hospitals can politely identify high-risk individuals hands-free, enabling safe, private, and effective isolation protocols attended by medical professionals and screening professionals."
BizCare's Crowd Thermal Monitoring Solution can operate in two modes, aligned with the screening protocol - Managed or Self-Managed.
Managed is best for owners and operators who designate employees or third-party contractors with healthcare backgrounds to perform and respond to further screening.
Self-Managed is best for owners and operators who count on their employees to take responsibility to follow workplace guidelines upon receiving elevated temperature alerts. Self Managed includes BizCare's proprietary recording and alerting feature. Other features include:
HD Resolution Video quality (1920 x 1080 visual resolution)
Accuracy to ±0.3°C (±0.54°F) at normal body temperatures
Configurable Audible Siren and Visible light alert
Artificial Intelligence for most accurate temperature readings
ONVIF 2.0 compliant, works with most NVR software.
Applications
The current COVID-19 pandemic is just the latest in a long line of viral threats that have threatened our way of life and safety: Ebola, H1N1, SARs, and others have all highlighted the need for greater security in places where masses of people travel or gather. The PT-BF5421-T thermal camera has a wide variety of applications, including:
Hospitals, Clinics, and Doctor's Offices
Nursing Homes and Assisted Living Facilities
Food Service Facilities
Sports Arenas and Convention Centers
Airports and Metra Stations
Police Checkpoints and Military Bases
Manufacturing Facilities, Warehouses, Factories
Apartment Buildings, Condos and High Rises
Learn more here... about BizCare's Crowd Thermal Monitoring Solution.
About BizCare®
BizCare delivers hard-to-find expertise and fresh ways of thinking to some of the most pressing business technology challenges. Combining the latest in remote and mobile technologies together with its professional IT talent, more business leaders turn to BizCare for near-sourced flexible world-class IT services.
Contact us here... to learn how to add this Crowd Thermal Monitoring Solution to your operations, changing the way you see the world, at https://www.bizcare.com/contact-us/
Media Contact:
Nancy Case
925-293-2222 x101
info@bizcare.com
SOURCE BizCare, Inc.